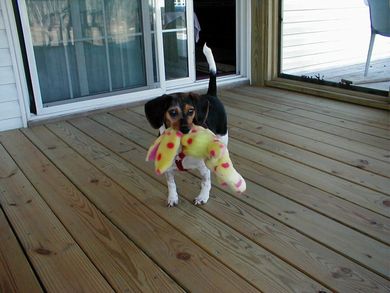 Gidget (That Puppy)
Gidget came to us one very hot summer day as a puppy that would fit in the palms of your hands. A neighbor offered a beagle puppy to our family. I picked one that I thought would be perfect. I asked Ann if she would like to have a puppy and we went back to the neighbor's kennel. I pointed out the beagle puppy that I thought would be perfect and then out from under a log came this little puppy that looked like a small rat. With the puppy's appearance, Ann said, "That Puppy".

Until the day Gidget left us for the rainbow bridge, she was 'That Puppy'.


---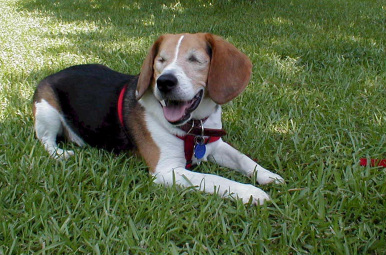 Jasper
Jasper was one of a kind! An older beagle that had lost both eyes when his owner refused Vet care for him. Jasper was adopted into our family and provided the impetus for SandHill Beagles to be formed. .


---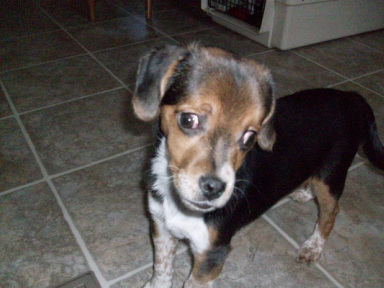 Jimmy
Jimmy was special. He was born at SandHill Beagles rescue shelter. When Jimmy started moving around in the kennel with his brothers I noticed that he would go around in circles. He would cry and his mother wouldn't respond to him. So I would go put him up to her so he could nurse. When Jimmy's eyes opened I noticed they were looking down and he didn't raise his head. He would try to play but his brothers wouldn't participate. He would still cry out and walk around in circles. Then again I noticed something about his head, it was large at the top. He was four weeks old so I thought we needed to get him checked out. The Veterinarian said Jimmy was Hydrophilous. What that means he was a water head puppy.

Jimmy touched everyone's heart more so mine. He was special.


---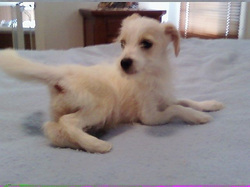 Christian
the pup left behind
On June 12, 2009 I was headed out to work when I spotted a puppy under my vehicle. I went to pick him up he never made a sound but his little tail was wagging with joy.
I took him inside to get some water. The temperature that day with heat index was 94. I soon realized that this puppy was placed here by someone. He was cripple and couldn't walk or stand. This is when he got the name Christian.
I took him to the Vet on Saturday morning. The Vet said one of the legs appear to have been broken 4 times. The plan was to take him back on Monday for exrays.
I Knew he was going to need a specialist. I made phone calls and sent out emails. I was told about a specialist in Cary, N.C. at PetSound Animal Hospital a Dr. Monce. I contacted them and took Christian in on Monday morning. Dr. Monce did exrays. What I am about to tell you is heart breaking. Christian had 4 broken legs with 14 fractures. He will have to undergo surgery. Some of the fractures will have to be broken and reset. The first surgery will be on the right and left back leg. Then the second will be on the left front leg. Well the right front we don't know how that will be. It might have to be amputated. Lets put out a lot of prays for this little one.
I am attaching pictures of Christian. He is a Terrier and so sweet to have endured all the pain he has in the 10 -12 weeks of his life.
This is what a person did and couldn't even bring him up to the house just left him in the heat on rocks. Please lets get Christian able to walk so we can show him off in the town where we live.
We are in need of donations for Christian's surgery. You can send a donation to PetSound Animal Hospital in Cary, N.C. where Christian is being treated. He will remain in the hospital until he is able to walk again. Or you can mail to the rescue at 2991 Stallings Road Macclesfield, NC 27852. We also have paypal on our website
www.shbeagle.com
. We are a 501(c)(3) nonprofit. This is tax deductable.
I hope Christians story will travel far so please pass it on to others. If you email me I will keep you posted on his condition.
Update on Christian

He has had 7 operations on his back legs. Three on the right front an
several more to go. This is the one we thought he was going to lose.
He has the left front also to be fixed. He has started to stand on his
back legs and the vet is pleased with his progress. He is still in the
hospital at Petsound animal hospital in Cary, NC. He will remain there
until he has all the surgery and can walk.
---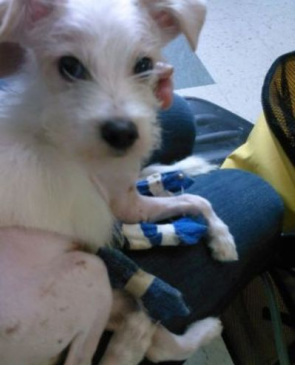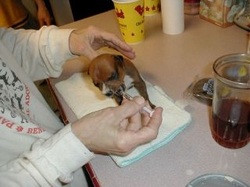 Scooby's Story:

Scooby was rejected by his mother. He was brought to the rescue and he
weighed 11 oz. He had to be dropper feed. I would feed him every two
hours. Sometimes he would heper ventilate and I would have to feed him
very slow. He slept in a very small kennel with a heating pad so he
would stay warm and remain body temperature.
Weeks past and the more we watch Scooby he would lose his breath
eating and trying to play. Several times we thought we had lost him.
We made a trip to the vet. The Dr. said Scooby's heart didn't sound
very good. We made an appointment to take Scooby to the NC Vet School
in Raleigh, NC.
No surgery could fix his heart. You can read the Heart condition from
the vet school. The vet told us that we could give him some time but
he would have to have oxygen. We rented an oxygen tank and when Scooby
played and was out of breath I would pick him up and give him oxygen.
I had made a mask so I could put it on his face. He did good and
accepted it. But the time came when I had to let him go. That morning
he colasped and turned blue. The vet said Ann you have to let him go.
It was hard. It wasn't my choice it was Gods.

---
CASE SUMMARY

DIAGNOSIS:
Complex Congenital Heart Abnormality

HISTORY:
Scooby Doo is a six month old male intact mixed breed dog that presents on
an emergency basis to the NCSU VTH's Cardiology service for evaluation for
a potential congenital heart abnormality.

Shortly after birth Scooby Doo was abandoned by his mother and Mrs.
Robinson bottle raised him. Even as a puppy she never felt like his
breathing pattern (hyperpnic) and energy level were never normal. Scooby
has been to seen by his family veterinarian on multiple occasions. On one
of these visits thoracic radiographs were taken and an interstitial
pattern was seen and chlorpheniramine, an ampicillin injection and
clavamox were prescribed (3/8/08). Simplicef was prescribed on 3/10/08
and three other occasions. Baytril was on prescribed on 3/21/08 after a
CBC was performed and an increased WBC count (25,000) was noticed. Mrs.
Robinson felt that Scooby Doo's energy level and respiratory rate improved
on the Baytril. Mrs. Robinson feels that there was no acute decompensation
in Scooby's condition. Instead she feels like it has been a slow decline
with more coughing, lethargy, and dyspnea throughout his life. She feels
like the worst she has ever seen him is about two weeks ago when he went
outside with a lot of smoke outside. She feels like that triggered severe
respiratory issues, collapse, and one episode of cardiac arrest. Lastly,
Scooby has been placed on tetracycline and was referred to VSH for a
work-up.

While at VSH (Veterinary Specialty Hospital) Scooby was dyspnic and
tachypnic with a respiratory rate of 56 and a heart rate of 150. A grade
III/VI systolic heart murmur was noticed as well as significant cyanosis
when he was stressed. A brief standing echocardiogram, thoracic
radiographs (significant motion artifact) and an EKG was performed and he
was referred to NCSU VTH for evaluation by a cardiologist with the
suspicion that Scooby Doo had a congenital heart defect.

Scooby is an indoor dog that has access to outside through a pet door and
has exposure to other animals. He has been tested for heartworm disease
and was negative. He is current on his vaccinations and is on heartworm
preventative.


PHYSICAL EXAM FINDINGS:
T- 102 P- 160 R- 60
Wt- 5.7kgs
MM- pink rostrally but cyanotic caudally with cyanotic tongue with
differential cyanosis in penis and prepuce
CRT- 2
BCS- 4/9
Attitude- Stressed

RESULTS OF DIAGNOSTIC TESTS:

BLOOD PRESSURE- 130mmHg

CBC- Leukocytosis (18,000) with a mature neutrophilia predominating, PCV 59%

SERUM CHEMISTRY PANEL- BUN 38, Phos 7.1, Ca 11.9, ALKP 151, CK 2775,
Bicarb 17, anion gap 20.5

CHEST RADIOGRAPHS- The cardiac silhouette appears enlarged with right
ventricular prominence. Pulmonary vessels are undercirculated. The lungs
show an interstitial infiltrate in the dorsohilar region.

ARTERIAL BLOOD GAS- pCO2 26, paO2 34, lactate 1.8, HCT 53%

ECHOCARDIOGRAM-
1) Truncus areteriosis or psuedotruncus arteriosus (probable)
2) Mitral regurgitation
3) Elevated left ventricular outflow tract velocity
4) Tricuspid atresia
5) Secundum atrial septal defect
6) Hypoxemia
7) Polycythemia
8) Undefined left to right shunt; Common truncus, truncus arteriosus type
I,II,or III; Ostium secundum-type atrial septal defect

ELECTROCARDIOGRAM- sinus arrhythmia, right axis deviation, ST segment
elevation, right ventricular enlargement

Medications:
1) Atenolol 5mg/mL solution: Give 1.4mg (.28mL) orally twice daily (every
12 hours).
2) Clavamox 62.5mg tablets: Give 1 tablet twice daily (every 12 hours) for
two weeks.

ASSESSMENT:
As discussed Scooby Doo has a very serious heart condition that is not
allowing sufficient blood to circulate through his lungs and to the rest
of his body. This is the reason for his symptoms (increased respiratory
rate and lethargy). It is important to know that he will never live a
normal life or life span. Our concern is largely related to Scooby's
quality of life. He has a significant amount of stress during his
respiratory episodes and unfortunately he is at risk for respiratory
arrest at any time. As you have stated he typically self limits his own
activity and leads a good life at home. It is important that Scooby is not
exposed to large temperature extremes, strenuous exercise, or other
stressful events. If his level of discomfort becomes more frequent then
intervention may be necessary. As discussed sedatives, supplemental oxygen
at home, humane euthanasia or invasive surgery are really our only
options.

After intensive study we do not have a complete knowledge of what exactly
is going on with Scooby's heart. If at any time you would like to
investigate surgical options that could potentially improve his quality of
life please make an appointment with NCSU VTH's Cardiology Service. At
that time cardiac catheterization and angiography can be performed to
better assess Scooby's heart and what potential interventions that can be
performed. These procedures are possible but at significant cost.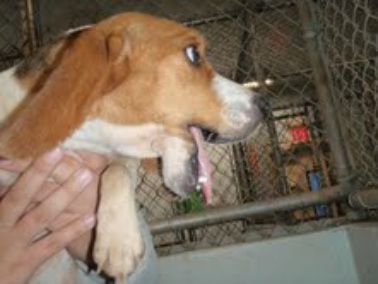 Colleen

Colleen was picked up as a stray. Her jaw was broken and it was just
hanging. We don't know what happen but we are sure it was due to human abuse.

Surgery was done to repair the jaw with wire. The Doctor wasn't sure it
would hold but was more concerned with infection. The surgery was successful. Colleen did good and was one of the best furries at the rescue. Colleen did not deserve to have had this happen to her.


---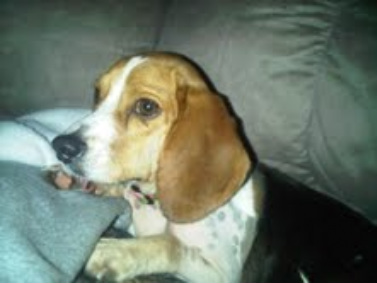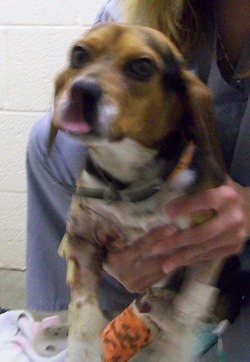 McMurray
"Neglected dogs found eating dead pack-mates at man's home"
According to published stories Hickory Daily Record dated March 18, 2011.
By: Richard Gould | Hickory Daily Record
Published: March 24, 2011 Updated: March 24, 2011 - 7:21 PM » Comments | Post a Comment MAIDEN -- Lab reports have confirmed what officers suspected. The dead beagles found in Maiden died of starvation, said Catawba County Animal Services ManagerJay Blatche.

The beagles' owner, has not been charged with any crimes in his dogs' deaths. The district attorney's office is reviewing the case file, but has not reached a decision of whether or not to charge.

"The matter is still in the DA's hands," Blatche said.

Animal Control officers raided Hewitt's property on March 15 and found several dead and starving dogs. They removed the remains of six dogs to determine their cause of death. They confiscated 19 live dogs.

Three of the dogs were rushed to a local veterinarian's office for emergency medical care, Blatche said.

Since then, one beagle has been euthanized. Another will have at least one of its hind legs amputated.

The beagle that was put down was suffering from multiple symptoms including unexplained seizures and was not responding to treatment. The second beagle is suffering from multiple dog bites to its hind legs inflicted by its kennel-mates.

Blatche said his officers found dogs eating their dead kennel-mates when they raided the property.

The remaining beagles are recovering.

"All the animals were underweight," Blatche said. "They are eating and putting on weight."

**McMurray is the unlucky beagle that lost his left rear leg. The following pictures give a vivid image of McMurray's condition.





---